Your Resource for Mid - Michigan Holiday Happenings!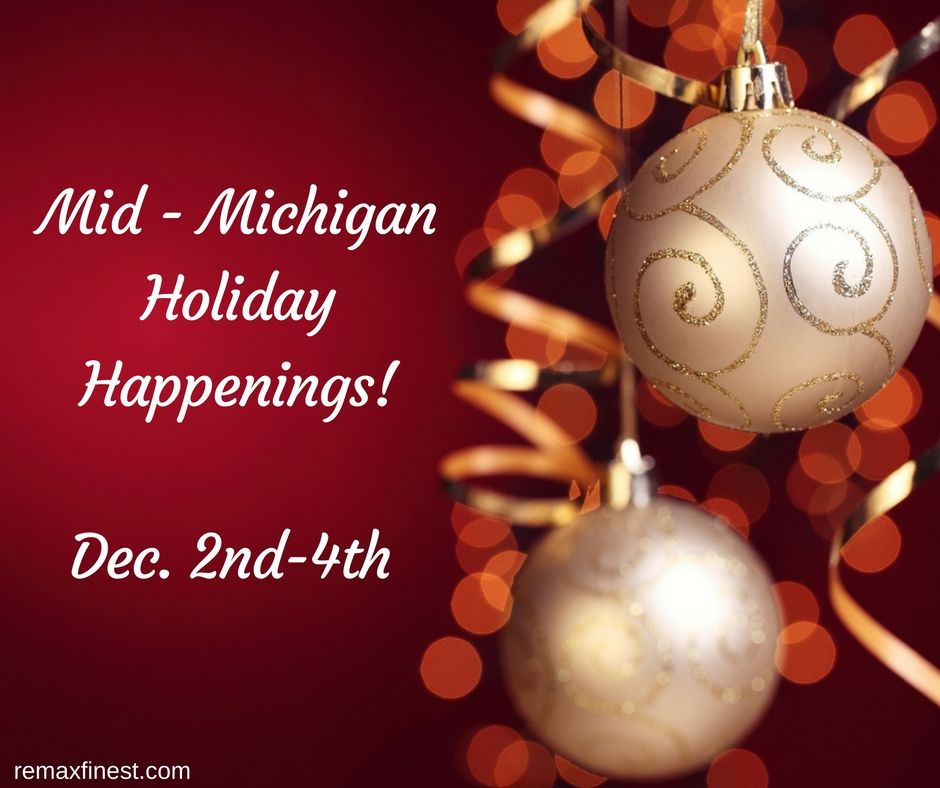 Cheers to the first weekend of December 2016! To make the best out of the first weekend in the last month of the year, check out the list below of exciting Holiday inspired happenings going on in Mid-Michigan this upcoming weekend:
---
Community Theatre – Charlotte MI "A Christmas Carol: The Musical"
Friday, December 2nd at 7PM
Saturday, December 3rd at 2PM & 7PM
Come one, come all! An event for all that will become a treasured memory to be shared! Begin the Christmas Holiday season with a musical flare! Charlotte's Andromeda Community Theatre, under the direction of Sarah Shoemaker, will present the classic tale of Scrooge and Tiny Tim, a Christmas Carol. You don't want to miss out on this production that will only be shown this weekend!
Sweets & Treats with Santa in Delta Township
Santa Claus is coming to town, well, Delta Township that is! Come to the Delta Township Community Center, 7550 West Willow Hwy. Lansing, MI for a visit with Santa, a Christmas craft for each child, a letter to Santa station, a special gift for each child, along with some yummy Christmas treats and lots of smiles!
**Parents, don't forget your cameras! You'll want to capture the smiles and moments that will be shared!**
Friday, December 2nd from 6-7:30PM
Saturday, December 3rd from 8:30-10AM or 11AM-12:30PM
Cost $5 per person (Delta Township resident) $6 per person (non-resident)
Online Registration: https://apm.activecommunities.com/deltami/Activity_Search?txtActivitySearch=santa&applyFiltersDefaultValue=true&cat=Acti
Village of Ashley Country Christmas
Friday, December 2nd from 7-9PM
Saturday, December 3rd from 11-1PM and 6-8PM
Sunday, December 4th from 12-2PM
Watch the North Pole Express roll into the Village of Ashley while enjoying hot spiced cider, donuts, Christmas cookies, barrel fires, and so much more! Be entertained with the 1940's decorations and carolers that walk the streets. Plenty of activities for the littles to keep them entertained and warm. Relish in the holiday air while waving goodbye to the passengers on the train as they head back to Owosso. Heart-warming memories are sure to be made!
Winter Glow
Saturday, December 3rd from 2-5PM
East Lansing - Albert Avenue and M.A.C. Ave,
FREE
Something for everyone at Winter Glow! Featuring ice carving, an ice sculpture walk, a winter barnyard, horse and carriage rides, a special outdoor holiday farmer's market, a heated music tent, photos with Santa and Mrs. Claus (3-6 PM inside the Marriot, photos are $3), family friendly activities and games, wandering carolers with The Steiner Chorale, winter photo scenes, marshmallow roasting, merchant activities, hot chocolate, roasted nuts and so much more! A fun time to be had by the entire family, don't miss out!
Every Little Detail's Holiday Workshop
Saturday December 3rd 11AM-2PM
UrbanBeat Event Center 1213 Turner Street, Lansing, MI 48906
As the crisp air sets in, come join Every Little Detail for a holiday workshop! ELD will briefly demonstrate different techniques on creating a beautiful wreath, or low centerpiece arrangement, before attendees create a unique wreath of centerpiece design.
Cost $60
Price includes:
Light refreshments and pastries
Seasonal music and good company
Supplies: Evergreens, holly, foliage, pine cones, and other decorative elements
Your creation of 1 unique wreath or 1 holiday centerpiece
Small gift
*** Please bring a pair of floral shears
https://www.eventbrite.com/e/every-little-details-holiday-workshop-tickets-28690318515?aff=es2
Nutcracker & Holiday Treats Dance Performance
Sunday, December 4th from 1-2PM
1210 N. Turner St. Lansing MI 48906 - MICA GALLERY
FREE
The Nutcracker Ballet is a classic Holiday tradition. The Greater Lansing Ballet Company will perform an abridged version of the classic ballet entitled the "Nutcracker in a Nutshell" at MICA Gallery.
Laingsburg Winterfest
Saturday, December 3rd from 4PM-8PM
We will be lighting up downtown to celebrate this magical time of year. There will be wagon rides, kid's activities, ice sculpting and many other events throughout the Burg. Mr. and Mrs. Claus will arrive on the fire truck at 5PM for everyone to see and say hello.
Night Lights Christmas Parade & Festivities – Grand Ledge
Friday, December 2nd
Festivities Start at 5PM
Parade Starts at 7PM
Santa Parade of Lights – St. Johns
Friday, December 2nd at 5:45PM
Christmas Parade with beautiful entrants decorated with colorful holiday lights. Tree Lighting Ceremony on Train Depot Lawn at conclusion of Parade.
Canadian Brass Holiday
Friday, December 2nd from 8-10PM
Wharton Center – East Lansing
The Canadian Brass is known for entertaining audiences for more than 45 years. Step into their world for a night and enjoy outstanding music, insightful asides and light-hearted banter. Since its founding in 1970, the award-winning Canadian Brass has elevated the art of the brass quintet through the group's international touring and extensive recording catalog. With a global reputation as one of the most popular brass ensembles today, the Canadian Brass will perform a lively holiday concert of seasonal favorites. Evening fun for the whole family to enjoy this holiday season!